We continued to share our know-how, vision, and experience in the third quarter of this year so that more companies, brands, and individuals can benefit from all the opportunities provided by Growth Marketing. Here is a recap of NBT Academy's 2018 3rd Quarter Growth & Digital Marketing Courses and Training:
July
04.07, Innogate, Istanbul
We attended a workshop hosted by Innogate and discussed the subtleties of Performance Marketing. NBT's Head of Performance Fatih Özen shared his know-how on NBT's last mentorship session regarding PPC, SEO, and Analytics to get Innogate ready for the US Program. 
24.07, Innogate, San Francisco
Our founder Eren Kocyigit was in San Francisco to support Innogate Brands as being one of the brands' coaches. We've gathered to discuss the key steps of a successful growth marketing strategy for both start-ups and scale-ups.
August
04.08, Impact Hub, Istanbul
Our Head of Performance Fatih Özen talked about "Digital Marketing, Test and Metrics" at SUCool BiGGinner Program, at ImpactHub İstanbul. It is always a great experience for us to participate in such events and contribute to new start-ups on their journeys.
07-09-10.08 Innogate, Istanbul
Our founder Eren Kocyigit, attended the Global Growth seminars organized by Innogate at Yıldız Teknopark to deliver keynotes about 'Key Marketing Topics for international Growth'. He addressed the marketing challenges of the brands in their globalization process and the importance of Growth Marketing in today's digital-driven business landscape.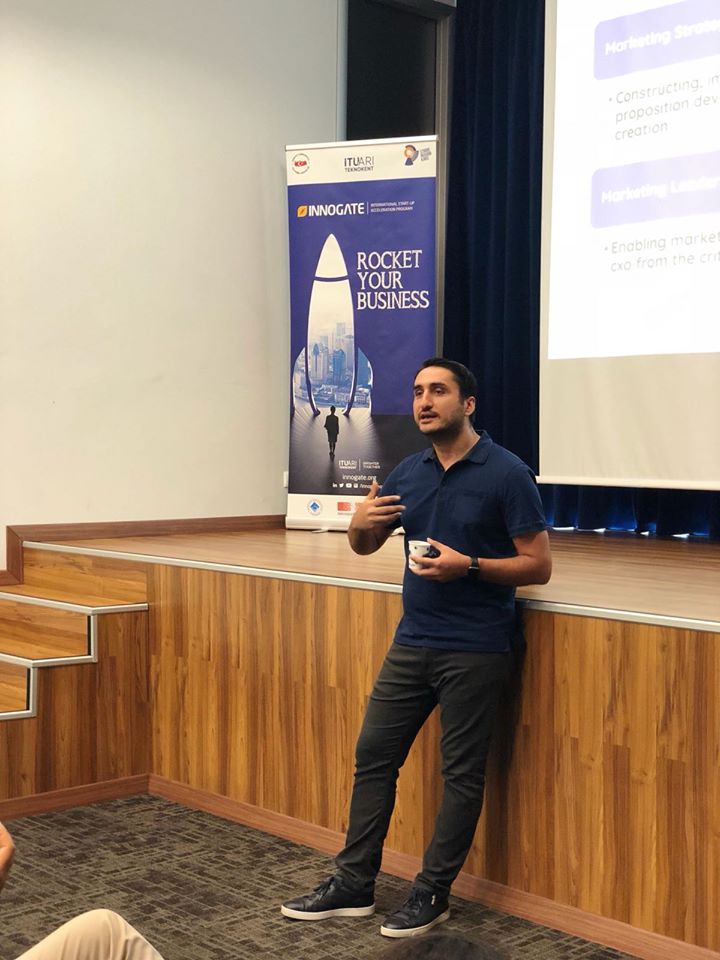 21.08, London & Partners, London
With his detailed presentation on "How to measure the impact of engagement activities and apply them in businesses", our founder Eren mentioned the importance of scalability in Growth Marketing. We met with innovative start-ups and scale-ups from London & Partners Business Growth Programme and inspired them to use the right tools of Growth Marketing.
September
04.09, Innogate, Istanbul
By delivering keynotes about 'Key Marketing Topics for International Growth' at Innogate Global Growth seminar, our founder Eren addressed the marketing challenges of Start-ups and Scale-ups in their globalization process. It was thrilling to see how attracted everyone was to his eye-opening presentation about 'Growth Strategy & Growth Funnels & Growth Metrics & Growth Plans' for the newest Innogate.org cohort.
10.09, TESA, Istanbul
Our founder Eren Kocyigit delivered a digital marketing workshop to the TESA Team. At the workshop, he talked about Contemporary Digital Marketing Topics & Trends and inspired all the attendees on the importance of turning to Growth Marketing.
13-14.09, Startupbootcamp IoT, London
We were at Startupbootcamp IoT London Selection days which aimed to make the journey of building a connected hardware start-up clearer, shorter, and more successful for entrepreneurs. As one of the Startupbootcamp IoT London Mentors, our founder Eren Kocyigit mentored start-ups about global marketing and growth. 
16.09, KAGIDER, Istanbul
At NBT we are always supporting female entrepreneurs and their success in business. Our Managing Director Çiğdem Çetinbaş talked about Digital Marketing and Online Sales at KAGIDER Proje15 Entrepreneurship Camp, Hosted by Boyner Holding in cooperation with Sabancı University. It was such an honour to meet inspiring and successful women and be a part of their business growth.
18.09, Impact Hub, Istanbul
Our Turkey Managing Director Çiğdem Çetinbaş talked about 'Key Issues to Enter European Markets' for technology companies at Impacthub Istanbul, hosted by SUCOOL. It was great to be one of the speakers at the "Accessing European Funds and Opportunities to Enter European Markets" event.
About the Institutions
INNOGATE
INNOGATE is an international accelerator supported by the Turkish Ministry of Development and Istanbul Development Agency. It provides a holistic program granting attendees access to international connections, and opportunities in the fields of strategy development, market penetration, and business modeling. INNOGATE's acceleration programs offer mentorship, training, counseling, and networking opportunities to help attendees access the right connections. The INNOGATE Program provides office spaces to its participants at the ITU ARI Teknokent facilities in San Francisco, Chicago 1871, and New York Galvanize.
Impacthub
Impact Hub Istanbul offers a membership-based co-working space to empower impact-driven, creative people. Their community consists of people from a wide variety of disciplines like entrepreneurs, consultants, investors, software developers, designers, artists, creatives, and freelancers. They provide institutions and our community members not only with an environment and events that get them inspired to increase their impact but also with an authentic ecosystem offering strategic resources and collaboration opportunities.
London & Partners
As the Mayor of London's official promotional agency, London & Partners focuses on building up London's international reputation and helping to retain and enhance London's businesses through its Business Growth Programme.
The London & Partners Business Growth Programme: The programme helps businesses to grow by offering strategic solutions, including mentoring, workshops, business growth advice, and opportunities across its London network.
tesa
Founded in 2001, tesa is one of the world's leading manufacturers of technical adhesive tapes. Specializing in self-adhesive system solutions with more than 7,000 products, they target industrial customers from various sectors such as automotive, electronics, printing and paper, construction, pharmaceuticals, and security.
KAGIDER
The Women Entrepreneurs Association of Turkey (KAGIDER) is a non-governmental organization aimed at strengthening women entrepreneurs. Their goal is to strengthen women not only economically but also socially and politically. KAGIDER has made its mission to support women entrepreneurship because it believes that women entrepreneurs have a strong impact on reversing the trends of gender inequality and women's economic exclusion. In addition, the goal is to bring attention to the contributions of women entrepreneurs in maintaining gender equality within society.
About our Lecturers and Mentors
Dr. Eren Kocyigit
Marketing Professional – BA Economics, MA Finance, PhD Marketing, Founder of NBT (Next Big Thing)
Eren is a Marketing Lecturer at several universities such as Middlesex University, University of Birmingham, Istanbul Technical University, and Istanbul Bilgi University.
He is also a Mentor / Keynote Speaker / Lecturer at several institutions such as London & Partners, Startupbootcamp, Founder Institute, Innogate, Kworks, and SuCool. He has been offering mentorship and giving keynotes/lectures regarding growth marketing to start-ups and scale-ups since 2013.
Çiğdem Çetinbaş
Managing Director at NBT (Next Big Thing)
Çiğdem is a digital marketing executive, experienced in start-up/scale-up marketing strategy building and implementation. She has expertise in VAS Management, Product Management, and Operations Management in the telecommunications sector. 
She is also a lecturer and mentor at several institutions such as INNOGATE, SUCooL, and KADIGER.
Fatih Alper Özen
Performance Marketing Director at NBT (Next Big Thing)
Fatih is a digital marketer and expert in performance marketing, strategy building, and execution. He is also experienced in mobile marketing, search engine optimization, and paid media management.
He is a mentor and lecturer at several institutions such as INNOGATE and SUCooL.