Content marketing is a great way to reach, attract, and convert your prospective customers and retain your existing customers. And it is cost-effective, ensuring sustainable profitability. Therefore, it's crucial to use the right content marketing tools to plan and execute an effective content marketing strategy.
You know your persona(s) – what they want and need. Now it's time to reach out and attract your target personas and retain your current customers with related, informative, and engaging content.
And for those who are ready to utilize content marketing tools, here you are the most popular ones we've picked for you.
1. WordPress
You need to deliver the right message to the right audience via the right medium. WordPress is the right medium. Why? First, it's the most popular open-source content management system in the world. And second, not only is it free, but it also offers lots of plugins and templates that allow you to build your website from scratch very easily. 
This easy-to-use platform also enables you to customize your website in line with your business purposes. Whether it's a blog post, a landing page, an e-commerce store, or a business website, you can create a free website with WordPress within days. You can register a brand new domain for your site or bring your own domain name and point it to your wordpress.com website. 
Source: wordpress
2. Yoast
Content marketing goes hand in hand with SEO. Even before starting to create content, you have to make sure that you're on the right track. 
Yoast is a WordPress plugin for SEO that helps content creators to rank in the search engines. It involves creating a focus keyword and optimizing content in terms of that keyword or keyphrases, synonyms, or related keywords. And there's more! Thanks to the snippet editor, you can edit meta descriptions and URL slugs and see a preview of how your post or page will look in the search results – both on desktop and mobile screens. 
Moreover, Yoast offers a readability check and shows what the problems are and what you can do to improve the readability score of your content – based on scientific research on readability, such as the Flesch Reading Ease score. 
Source: Yoast
Source: WordPress
3. Buzzsumo
Now comes the planning part of the content creation. Buzzsumo is one of the top content marketing tools when it comes to content marketing research. This all-around research tool gives you content insights into what kind of content performs the best within your industry. You can:
Discover trending content and topics for any location over different time periods.
See the most shared content on Twitter and Pinterest.
Find out what the most engaging content on Facebook and Reddit is.
Search forum posts, Amazon, Reddit, Quora, and Q&A sites and find the most popular questions.
Identify influencers who are creating the most relevant and engaging content for your targeted audience on Instagram, Twitter, Facebook, and the web.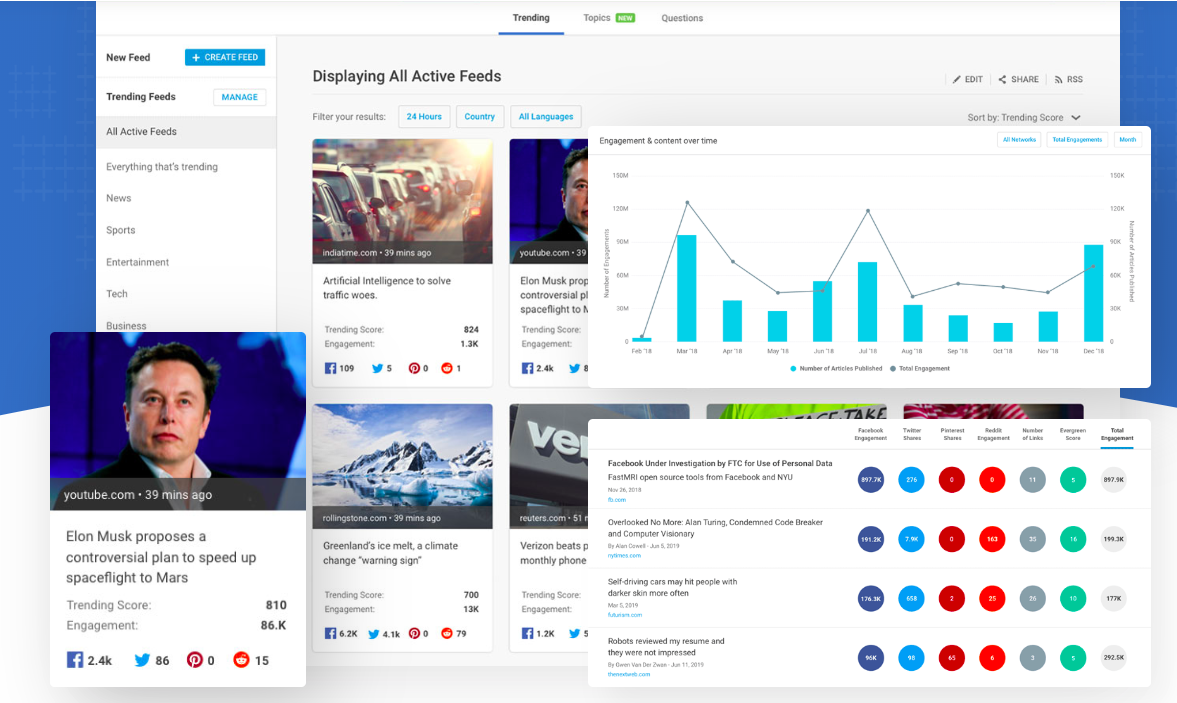 Source: Buzzsumo
4. Google Alerts
Google Alerts is actually a news service that works using search engine logic. You just set up an alert for topics and keywords. Google Alerts searches news sites, blogs, and web pages all over the world, filters them, and emails you the related articles, publications, and blog posts. And you can choose the frequency at which you'll receive notification emails. 
5. Google Keyword Planner
Better to check this free Google Ads tool in order to find additional keywords for your keyword ideas. Historical statistics on search volumes by date range will help you decide which keywords to use while creating your content. 
6. Answer the Public
One more step before proceeding with your keyword phrase. All you have to do is type answerthepublic.com, choose your language and country, enter your keyword, and click the `get questions' button. Then Answer the Public shows you what questions your audience is already asking. It will give you an idea of your content's title and therefore help you generate more organic traffic.
7. Google Docs
Here we are. Ready to start writing. Google Docs is one of the best content marketing tools for writing. It's basically a web-based version of Microsoft Word. You can work on the draft version of your content, easily share it with other stakeholders, get their comments and suggestions, leave and respond to their comments, edit together, and write down the final version. It's that easy to use.
You can see the version history if you want to check the changes made between versions and even revert to a previous one. Like a great writing assistant, Google Docs has a built-in proofing tool that highlights the misspelled words and grammar mistakes and gives suggestions.
In addition, when you copy/paste your content to your content management system – WordPress, etc., it automatically adds the correct HTML tags. h1 and h2 tags are especially important to be found by search engines when they crawl your content and understand what your content is about. And it eventually increases your site's rankings.
If you want to export your content directly to your CMS (content management system), you can use CloudPress, a Google Docs Add-On, without losing your formattings such as headings, bolds, lists, tables, and images.
8. Envato
Good user experience is essential in content marketing. We all scan almost every piece of content before actually reading it. We either keep reading or leave without a second thought. If you give only words to your readers, you'll probably lose them. Yet, if you set up a hierarchical structure with titles, subtitles, and images, then you'll stand a much better chance of attracting your audience.
For titles and subtitles, you can go to your SEO tools. And for images, you can go to Envato. It offers hundreds of thousands of photos, images, and graphics, along with stock videos and video templates.
9. Canva
If you could not find images that you're looking for on Envato, Canva enters the scene. It's an online image creation tool with a drag-and-drop feature. You can design images for your blog posts and social media channels by using a stock photo library or ready-to-use templates. 
10. Semrush
 Semrush is an "all-in-one" SEO tool. You can track your website performance and analyze your competitor's keyword and traffic. But that's not all. You can also use an SEO Content Template in order to create SEO-friendly content. When you enter your target keywords, Semrush creates an SEO template with key recommendations for you based on your Google top 10 rivals. These recommendations include text length, backlink sources, and related keywords. While crafting your writing accordingly, you can also use "Real-Time Content Check" and see whether you're on the right track. 
11. Hootsuite
Now, you are ready to go and share your content with the world. And Hootsuite is the tool for you to manage all your social media posts within one platform. You can plan your content calendar and automatically schedule your posts accordingly. It also allows you to track the performance of your social media posts and give meaningful insights with customizable, easy-to-create reports.
12. Mailchimp
Email marketing is one of the most cost-effective ways to promote your content. And Mailchimp is one of the best email marketing tools that offer a wide array of features. It's easy to use, with a clean interface. You can easily create email lists, export your existing contact lists to Mailchimp, and segment your audience. With ready-to-use templates and a drag-and-drop builder, you can design appealing and engaging emails. 
You can also set up automated emails for your new subscribers, do A/B testing, and monitor the opening rates of your emails. In addition, you can integrate Google Analytics into Mailchimp in order to track conversions. And it's free to use up to 10,000 emails a month to 2,000 subscribers. 
Source: Mailchimp
13. Jira
Content marketing requires proper planning and execution, from monthly planning and content creation to distribution. Jira is a project tracking tool that can help you plan and track the whole process and manage your team. Although Jira is mostly used by software development teams, you can create your own workflow that matches the way your team works.
Source: Jira
14. Google Analytics
Knowledge is power. Google Analytics allows you to understand which keywords build traffic to your content and which types of content are most effective at keeping visitors on your website, as well as which content is leaking. Such analysis can help you optimize your content marketing strategy from planning to execution.
15. Hubspot
As an integrated inbound marketing system, Hubspot helps you convert more website visitors into leads with the help of live chats, popup forms, and traffic and conversion analytics.
With The HubSpot All-In-One Marketing – Forms, Popups, Live Chat WordPress plugin, you can easily connect your WordPress site and HubSpot account. And when you promote your content on Facebook, Google, and Linkedin, leads are synced from the ad network into the HubSpot CRM system. You can also monitor website performance and analyze HubSpot forms to see which channels are driving the most conversions.
16. Mobile Monkey
If you are ready to go for an extra mile, then Mobile Monkey is what you are looking for. It's a chatbot platform to connect with your customers in real time. Just write chat content once and use it not only for website chat and SMS but also on the messaging apps such as Facebook Messenger and Instagram that your customers are using. Such a multi-platform chatbot marketing tool could turn an audience engaging with your content into a lead and increase your conversion rate.
Bonus: Content Marketing Tactics
Here's a wide range of content marketing tactics we have prepared for you to implement in your growth marketing activities. You can choose the tactics according to your main goals (Brand awareness + traffic generation, conversion, and retention) as well as the difficulty level (beginner, intermediate, advanced).