With growth funnels, we can see the whole customer journey and plan how we will use each digital marketing channel along the way. So it's vital to consider the customer journey and one's marketing and sales funnel when planning marketing tactics. Planning growth funnels is a way to structure the prequel and sequel actions surrounding each growth marketing tactic.
A growth funnel can be divided into four phases:
Reach & Attract
Engage & Convert
Nurture & Close
Retain & Grow
At each stage, there are specific goals that will move customers down the funnel, fueled by tactics including owned media, paid media, and earned media. It's critical to use each digital marketing channel holistically to turn anonymous visitors into customers.
Reach & Attract
The Reach & Attract stage is at the top of the growth funnel, so everything is aimed at building brand awareness and attracting target personas. To reach and attract ideal customers, traffic generation should be a focal point.
At this point, a customer or business is identifying a need or want. One of the most important parts of finding and connecting with these potential customers is understanding their needs, expectations, and habits. Once you understand these, you can use the following platforms to reach and engage with your target persona.
Paid Media Channels
Using paid media, or advertisements, is an efficient way to reach and attract your audience. Paid media is beneficial because you can get near-instant results with relevant audiences. Finding the relevant audience, of course, is heavily based on determining the right target audience. So persona creation is crucial.
Without relevant keywords, ads are useless. So keyword and competitor analyses are vital. Research which keywords are being searched by your target audiences. Also, check out which keywords and locations your competitors are investing in. Not every platform is useful for every business, so only focus on the platforms that your target audience uses and will be effective in engaging with them.
Through platforms like LinkedIn, Facebook, and Instagram, you can reach your target audience (even very niche personas) faster with accurate and reliable demographic targeting.
However, it's always important that it is not pure advertisement. Instead of simply promoting products, engage in conversations and provide meaningful, authentic content on platforms like Quora and Reddit.
Facebook's Audience Network is a tool where brands can expand their Facebook ad campaigns and use the same targeting data they use on the platform to advertise on a huge collection of websites and apps.
Publishers in Facebook's Audience Network account for 50% more time spent in mobile apps than Snapchat and Twitter combined. Place native ads, banner ads, full-screen ads, in-stream video ads, and rewarded video ads on the network's websites and apps that Facebook audiences frequently visit.
Content Marketing
Organic traffic is a cornerstone of attracting and maintaining brand awareness. The important part is taking the time to solve technical SEO issues and research to target the right keywords. Then, creating relevant and qualified content is the key to gaining organic traffic. An SEO plan and content plan go hand in hand.
Before you set out to create your content topics, it's important to conduct research to ensure that your content is right for your audience. Focus on how users are currently finding your website, what language you should consistently use on your website, and what audiences are searching for when they're looking for your competitors.
Another aspect to consider is search and industry trends. Assess what kinds of content you should be creating at what moment in time. Reach out to your audience, survey them, and find out what information you can glean from them directly. 
There are two types of content: topical and evergreen.
Topical content is time-sensitive content tied to a particular moment in time. Relevancy is the key ingredient here. Social listening and Google Trends can help you discover a topic that is sparking the interest of your audience. And you can create content based on that trending topic.
Evergreen content covers timeless topics. This content will always be relevant and valuable for your business and drives more traffic over its lifespan.  First, discover the related sub-topics that your potential customers are searching at your target locations. Then, create a piece of content that serves their needs, answering their challenges. These topics need to be the main part of your content marketing strategy.
All this research will give you ideas of what you should write about. But you should also keep in mind that you're creating a piece of content for a certain audience. So you need to have a clear idea of who your target persona is to create related content for that audience. Focus on your personas' problems and needs and create valuable, inspiring, and unique content that raises awareness on these topics.
Social Media
Social media is important in increasing brand awareness because it provides unique ways to get your name out there. Social media provides creative tools to set your brand apart and meet audiences where they are already active. First, you need to decide which social media platform best presents your goals and fits your brand. Consider where your audience frequents and what platforms they trust.
Then, create a monthly social media calendar where you'll decide on how often to post. Being active in groups on Facebook, LinkedIn, Quora, and Reddit can also boost engagement. Become part of the conversation in circles that include your target audience.
TikTok is the fastest growing social media network right now, with no sign of stopping. Follow these best practices for engagement on TikTok to reach younger audiences in a highly creative and playful environment:
Join new & popular trends
Collaborate with influencers
Keep it short & sweet, but not too brief
Use music & sound
Use vertical, high-res & full screen format
Add CTAs
Earned Media
Earned media can reach your target audience in ways and places that your paid marketing may not be able to. Through collaboration and community engagement, you can boost brand awareness. So much of a buyer's attraction to a brand can be a result of word-of-mouth marketing, and there are various ways to accomplish this.
Some examples of earned media include:
Increasing the number of backlinks to your site can increase your ranking in search engines, but backlinks are the hardest to secure. You need a concrete plan to gain backlinks, by identifying publishers and institutions important for your business that have high authority scores.
Participating in industry events that will increase mentions, tags, and citations is a great opportunity. Be an active voice in trending conversations so your content will be shared among audiences and ideally reach your target persona.
Strategic sponsorship is a great way to increase reach and encourage word-of-mouth marketing. The free merchandise given out at events will consistently remind people of your brand and encourage them to buy long after you're gone.
Sponsor events that your customers care about to create positive feelings about your brand. And differentiate yourself from competitors by sponsoring an event, especially an exclusive sponsorship.
Engage & Convert
In the engage and convert stage, the main goal is to convert visitors into leads and customers. Your primary targets here will vary according to your business model.
If you generate leads through marketing efforts (usually B2B), this area will assist with lead generation activities, aiming at converting visitors into leads. If you generate revenue via online sales through marketing efforts (usually B2C), this area will manage customer/revenue generation activities to convert visitors into customers and increase revenue per re-visited customer.
At the end of the day, the engage and convert stage is all about driving audience engagement and increasing leads and conversions.
Digital Marketing Channels
Using digital marketing channels to convert your visitors into leads should be the main priority during this phase since this is where your visitors are most likely having contact with your brand.
Potential buyers at this point are aware of your brand and are in the "consideration" phase. So all of your digital marketing channels should be aimed at showing them that you are the right fit for their solution. Let's look at some proven strategies and tactics to engage with and convert your ideal customers.
Paid Marketing
Through paid marketing, you can strategically engage with your target audience with precision and speed. Remarketing lets you show ads to people who have previously visited your website, watched your YouTube content, or engaged with your previous, content-specific ads. For B2B, prepare ads on LinkedIn with gated content, such as sectoral reports, infographics, and whitepapers, to engage and convert potential customers who've visited your website. For B2C, Instagram, Youtube, and TikTok can be ideal platforms based on your target persona.
Criteo is the #1 dynamic retargeting platform. Criteo combines big data with super-smart, shopping-focused AI, featuring:
Advanced dynamic retargeting
Mobile app advertising
Dedicated customer advisors for performance boost
Easy and seamless integration with Facebook / Instagram
Content Marketing
When crafting content to effectively convert potential customers, it is essential to consider where your target audience is coming from and what they're looking for. This content should describe solutions for visitors in the consideration phase. Produce consistent and personalised content for those who have previously contacted your brand. Also, generate specific content that will answer their specific pain points by using long-tail keywords. 
How can you get the email addresses, names, and phone numbers of your visitors? You need to give them something first. And content marketing can help you do just that. Host a webinar that is interesting for your target audience, and ask them to sign up for that webinar. You can offer a free trial and in return ask for their contact details. Or write a success story about how you helped your client achieve something. These kinds of success stories are helpful content that describe how your product/solution works.
Examples of content include:
How-to & comparison blogs
Whitepaper, guides, ebooks, & reports
Case studies & success stories
Demo & free trials
Social Media Marketing
People are constantly looking to be inspired by social media. During the consideration phase, your target persona knows what they want, and they are exploring all their options. So social media marketing plays a prominent role for potential buyers in this phase. Social media platforms that you use should depend on your target audience and which platforms they look to for answers and information. If you are active in the right channel, you have a chance to convert them into leads. During the consideration phase, audiences are exploring their options, so creating specific content that is informative and comprehensive can be just what they need.
Some best practices include:
Create your own group or forum to provide information, crowdsource ideas, and network
Increase engagement by going live
Direct message prospects and followers
Leverage Stories
Encourage your followers to share their own content
Leverage user-generated content
Storytelling with new features (live, stories, polls)
CRO (Conversion Rate Optimisation)
Conversion rate optimization, or CRO, is the process of enhancing your website to increase the number of leads you generate. This results in more qualified leads and increased revenue.
Web Design
The priority for great web design is to make everything self-explanatory and as easy as possible for the website visitor. Build on the initial benefit and drive a visitor's interest, curiosity, and intrigue about your company so they can start thinking about your brand, products, or services.
One thing to consider is user experience (UX). Nowadays, because consumers have less time and diminishing attention spans, on a website, you only have seconds to make an initial impression before visitors leave. When a visitor spends time on your site or gives personal information, it can be seen as an investment. Therefore, you need to focus on demonstrating value for the user very early in the journey.
Their experience on your site should be quick, convenient, and worth their time. If you're receiving high traffic with not many leads, there's a weakness in your conversion process. Find out where customers stop interacting.
There are several reasons why people drop off, including:
Call to action (CTA) message is hard to find or unappealing
CTA button colour blends in or doesn't stand out enough to recognize it
Page organisation is messy, so information is hard to find
You can find bumps in your conversion process and solve them.
Data-based decisions make all the difference in CRO.  One great tool is heatmap analysis, which shows you how much time people spend looking at various parts of your site. A heatmap is a visual representation of areas of a page where users spend the most time. Warm colours indicate where attention is greatest.
When making design decisions, it's better to use behavioural data rather than personas or psychological profiles:
What behaviours have you seen?
Is your website used more in one part of the day than another?
Where do users spend most of their time on your site?
Which pages do they abandon?
Forms & Chatflows
If a visitor comes to your site and doesn't contact you — will they ever become a customer?
Without a place to leave their information, visitors are free to walk away forever. But if you do manage to capture their attention and they leave their information, then you have a direct line to continue the conversation.
With forms, you can collect your customer's contact details, along with other helpful information so that you can follow up with them later.
A pop-up form is another conversion rate optimization element you can include on your site. High-converting pop-ups are designed to attract attention and offer value.
On Hubspot, you can add pop-up forms to certain pages within your website. And more importantly, you can select when to show them. The timing of your pop-up can make or break a visitor's decision to interact.
For example, place them after 8 seconds of them being on your site, when they scroll down, or when they intend to leave the page.
Another way to generate leads is through a live chat tool. Many visitors prefer to get answers through a quick live chat, rather than filling out a contact form. Being available when your visitors have questions is a great way to quickly win them over.
You can also make your messaging and chatbots action-based.  For example, if someone has spent more than a minute on the page, you may automatically offer to help. You can customise your live chat widget so it matches your brand and greets your visitors with a helpful and engaging message. Create a chatbot flow to qualify leads, book meetings, answer FAQs, and more.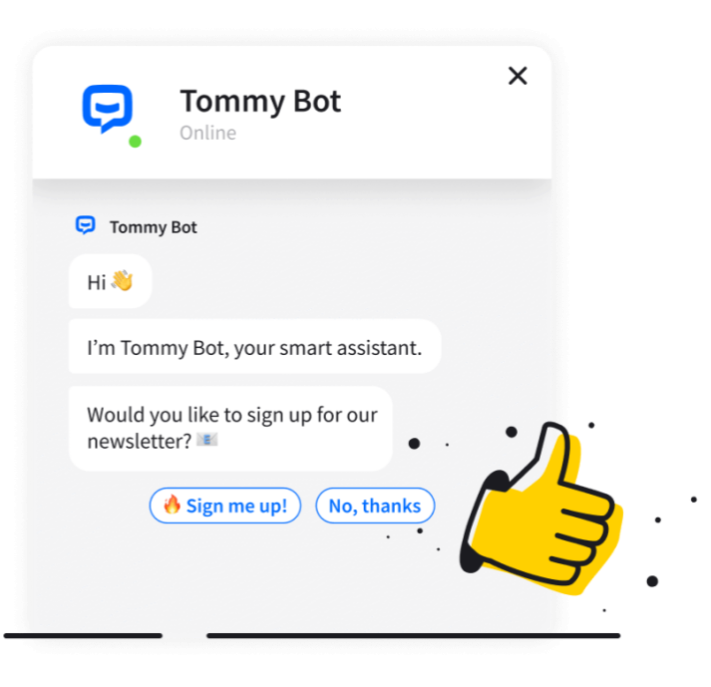 Smart banners are a great tool for engagement. Use smart banners to drive users to your app. It's proven to convert high-quality users that will engage with and keep your app. And it's one of the most effective ways to drive app growth from web traffic.
App Store Optimisation
In order to engage with your target audience, ensure that you are maximising your app's visibility in app stores.
Use screenshots and videos to illustrate what your app looks like and what they can expect. Highlight its main features by telling a visual story that draws people in. Use your description to attract people by making it informative, easy to understand, structured (bullet points & emojis), and full of keywords (especially with Google Play).
Your app name is also important to visibility. Including important and relevant keywords in your app name and description is critical. When someone searches for a keyword that is related to your app, your app will be visible. App stores have character limits, so try to use the full character limit if possible (App Store-30; Play Store: 50). Ensure consistency by not changing the name of the app frequently.
Reviews and ratings are also crucial in keeping up visibility, so keep track of what topics the comments are about. Be sure to respond to negative comments and show that the issues are taken care of. Develop in-app scenarios to collect positive reviews, but don't be in a rush to ask for ratings. Instead of requesting a review as soon as they download, check in with users a few weeks later and ask about their experience. People value reviews and ratings and read them before installing an app, so the happier the customers are, the more conversion you get.
A/B Testing
A/B testing is a way to compare versions of a website or mobile app page by testing users' responses or behaviour to determine which variants are more effective. These experiments give insights on how to optimise certain elements of your website/mobile app page. There are many things that can be experimented with depending on your goals, such as changing the CTA (call to action) wording, colour scheme, button placement, navigation menu, pricing display, and more.
Nurture & Close
In this stage, the buyer is aware of their problem or need and is now searching for answers and gathering information. In other words, the buyer is ready to make a decision and is comparing alternative solutions. This decision stage is vital in a company's funnel. You should focus on monitoring your sales pipeline, speeding up the buyer's decision-making process, and retargeting customers from earlier stages.
From Marketing to Sales
At the nurture and close stage, you should look at marketing and sales as a whole. Together they make up a growth team that has to work together. Smarketing is the process of aligning the sales and marketing teams around common company goals and OKRs within a business or organisation, focused on improving revenue.
Cross-team collaboration and improved communication across any organisation are beneficial to growth. This transparency and alignment will ensure your marketing and sales teams are focused on the same goals, stick to the mutually agreed-upon budget, and understand the specific roles of each internal stakeholder. 
Account-Based Marketing
Imagine a world where you could start the sales process by selling directly to your best-fit, highest-value accounts. In this way, you don't waste time trying to market and sell to unqualified leads. This means you could move straight into the phases of engaging and delighting your target accounts.
With account-based marketing, all of this is possible. The process allows you to align your marketing and sales teams from the get-go to promote long-term business growth, delight customers, and boost revenue.
By turning the funnel upside down, you can specifically target love brands, historical deals, and companies you want to work with. Then, you can find who works there and in what positions in order to reach out to them. Hubspot's Target Account feature gives you a great overview of accounts that you've targeted and their potential.
Funnel-Based Pipeline Management
A sales pipeline encompasses every stage of your sales process, and a lead moves from stage to stage of your pipeline based on concrete actions.
The sales pipeline provides salespeople with a visual representation of where their prospects are in the sales process. It allows sales reps and managers to forecast revenue by looking at what stages opportunities are in and predicting how many will close as deals during a given timeframe. And most importantly, it gives you a visual of where there are bottlenecks in your conversion rate and how you can improve your buyers' journeys.
Forecasting - Potential Sales Volume
A sales forecast predicts what a salesperson, team, or company will sell weekly, monthly, quarterly, or annually. Potential sales volume allows the marketing team to calculate the ROI of your advertising efforts.
And looking at the pipeline, you can calculate the number of leads you need at each stage to hit your goals. Start with your target monthly or quarterly revenue divided by your average deal size. That tells you how many deals you need to win in a month or quarter.
If you need to win 135 deals, and your reps typically close 90% of deals in the negotiation stage, 150 opportunities must reach that stage in a month.
Lead scoring is a methodology for ranking leads to gauge a prospect's buying likelihood. Leads are scored according to the interest they show in your product or service. You can use the information visitors have provided you to score how likely they will become a customer.
On Hubspot, you can add positive and negative attributes. For example, if you're targeting larger companies, you can assign +2 points to anyone who works at a company with 500+. If you want to rule out students, you can assign -5 points for anyone who is a student. With this method, you will be able to focus on the highest qualified leads first.
Nurture & Close Through Digital Marketing Channels
Paid Media
Paid media is a great tool to target and remarket to customers that may be ready to make their buying decision. You can use paid media to access, save, segment, and reach out to customers that have made contact with your brand at some point.
Upload customer information obtained through website forms, apps, physical stores and in-person events. Create advanced remarketing campaigns via custom audience features.
Track ROI that shows the budget, effort, and resources you expended were all worth it. Hubspot gives you a great visual of how to track everything from your impressions to your customers, and how much everything costs.
Content Marketing
After the consideration phase, buyers are aware that they have a problem or need, search for answers, and gather information. So they are comparing alternatives in order to make a decision. So your content marketing should reduce the anxiety of your potential customers who wish to make the right purchasing decision.
User-generated content can be convincing, inspiring, and reliable. Create persuasive content such as demos, free trial accounts, webinars, case studies, and testimonials. Retarget the people who've been through the awareness and consideration phases with consistent content. Offer financial incentives to speed up the decision making process.
Earned Media Marketing
One highly effective growth tactic is referrals. Make it extremely attractive for users to participate in with the straightforward process of referring and the great incentive. While it may seem like a simple growth hack, this is based on the costs of winning new customers, so it is an effective, data-based growth tactic.
Robinhood, a zero-commission stock trading app, used this growth tactic to create an air of excitement around its app. Their landing page had a sign up that included a mention of gaining priority access to the app with a few simple social shares. Within just one year Robinhood had a waiting list of 1 million people!
Smart banners are a great tool for engagement. Use smart banners to drive users to your app. It's proven to convert high-quality users that will engage with and keep your app. And it's one of the most effective ways to drive app growth from web traffic.
App Engagement
App engagement should be a priority in the nurture and close phase, as it is a quick and easy way to keep your potential customers engaged and coming back for more. Take advantage of the available technology to nurture those leads!
Location Awareness
Mobile devices have a lot of sensors (camera, location tracking, accelerometer) that can be used to improve the UX. Apps can use a device's location data to provide content relevant to the user's location or to simplify certain operations.
Biometric Authentication
It's possible to minimise the number of steps required to log in to an app using features like fingerprint touch login or facial identification
Efficient onboarding process
Showing a tutorial screen to people who download the application and open it for the first time is an effective step in providing a good user experience.
Push notifications
Provide the most value to your app audience. Consider personalisation and relevancy in your push notification strategy.
Paid Engagement Campaigns
Initiate app re-engagement campaigns and advertise deals and products to existing app users via the Google Display Network, Facebook and Twitter. Increase in-app user activity.
Email Marketing
Thousands of marketers today rely on email marketing to generate results. They send blast email after blast email to their entire list of prospects and customers, hoping the message resonates with some of them and gets them to purchase. But does it work?
People have doubted emailing and counted it out, but email marketing is an effective and free tool to communicate with and nurture your customers. The key is timing, messaging, and most importantly, segmentation.
Segmentation
Your contact database is the foundation for every email you send. Sending generic messages to everyone in your database can have the opposite effect that you want. Segmentation makes email marketing automatic and highly personalised.
With segmentation, you can choose exactly what type of people should receive what type of emails. Use your database to segment your contacts, based on the following:
Demographics
Job role, industry, or company type
Purchase history
Current or potential customer
Stages in sales cycle
Preferences or interests
Clicks, opens, or content formats
Change in engagement or behaviour
Email Sequences
An email sequence is a series of emails automatically sent to specific segments of people on your email list. You can send a series of targeted, timely emails to nurture contacts over time. Time-based emails are sent on certain occasions, such as a customer's birthday or a holiday.
On Hubspot, you can send email sequences directly from your own email server to leads. This way, it directly lands in the focused inbox of the recipient and opening rates are much higher.
Marketing automation is designed to help you prioritise and execute your marketing tasks in a more streamlined and efficient way. It allows you to nurture your leads through the entire buying process, delivering highly-targeted, personalised messages that address their specific barriers to purchase.
As an example, here is what a basic automated email workflow could look like:
Step 1: Send an email invitation to download your latest ebook to a targeted list of contacts
Step 2: Send a thank you note to all the people that downloaded the offer
Step 3: A few days later, send a follow-up email to the list of people who downloaded the ebook, offering them a case study relating to that topic
Step 4: Finally, when someone downloads that case study, your sales team will get a notification so they can follow up with them. (This person is now much more qualified and is likely further down the buying process.)
Re-engaging Inactive Leads
There is value in inactive leads! Perhaps external factors prevented a lead from moving forward or there was a delay. Remember, it is more expensive to engage and win over a new customer than to re-engage with an existing one.
Your time has been invested in qualification, contacting, and much more to get to this stage. It takes on average 18 calls to connect with a buyer, so don't give up on inactive leads!
Retain & Grow
The last stage of Planning, Retain & Grow, is all about securing customer loyalty and growing your customer base. Here, the ultimate goal is making your customers champions for your brand.
Although this part is usually overlooked, it is quite critical. The customer has already made a decision and chosen to work with you, but they need to be reminded of why they first engaged with you.
You should encourage repeat purchases and focus on customer retention and loyalty. Find out if customers are satisfied with your products or services. Would they recommend it to their friends and colleagues? How can you encourage them to become dedicated brand ambassadors?
Retain & Grow Through Digital Marketing Channels
The first rule of any business is to retain customers and build a loyal relationship with them, thereby avoiding customer acquisition costs. An important part of satisfying and retaining customers is cultivating meaningful relationships with them.
A successful and positive onboarding experience confirms to your customers that they made the right choice. It also ultimately helps you retain them. Continual communication is also key. After your initial contact, continue using different channels and content to connect with them throughout.
Content Marketing
When creating content through digital marketing channels, remember to focus on customer retention and loyalty. You should generate content to increase the satisfaction of existing customers and encourage repeat purchases.
Map related content to the retention stage by showing your customers how to use your product or service better with tutorial videos and case studies. Let's look at some effective ways to retain customers through digital marketing channels.
If your churn rates are high, it means you have a losing business. So you need to hear your customers' feedback and iterate while reminding them why they chose you in the first place with the help of content marketing.
You can ask for testimonials and videos and write case studies about your collaboration. Create content, like reports and ebooks, that add value to your customers' experience, even after their purchase. This will encourage repeat purchases and also foster your continuing relationship with them.
Social Media Marketing
User-generated content is one of the most effective ways to retain customers through social media. Always focus on your community and highlight the people who are part of your brand and ambassadors. Challenge your community to share your brand through hashtag challenges and trending topics.
Earned Media Marketing
Community advocacy and relationship growth can play an important role in increasing retention and brand loyalty. You can facilitate meetups, webinars, podcasts, and other events to create online communities around your product.
For example, Stripe used care packages to connect with developers who deployed live instances of Stripe. The launch packages included t-shirts, stickers, and other Stripe swag. This swag was worn proudly and the care packages were shared on social media.
A sense of belonging is created through shared values, traditions, and norms. Another example is Legos Ideas, a community-centred collaboration. Community members show off their Lego creations and share images of new product ideas. These fan designers also become brand advocates because concepts that make it to expert review must have over 10,000 supporters.
One of the most powerful marketing tools is word-of-mouth. You can use this tool by creating a referral program. Make it extremely attractive for users to participate with the straightforward process of referring and great incentives.
A great example of the effectiveness of referral programs is Dropbox. Dropbox increased their new user signups by 60% when they started offering users 500MB of additional storage for free whenever someone they referred signed up for the service!
Paid Media
Paid media can be used to drive performance by keeping your ads relevant and targeted at the right customers. The key here is to set specific goals and use paid media to achieve those goals through data-supported tactics.
Hubspot is a great tool to do this because it allows you to segment your customers based on different criteria, such as purchasing history, engagement levels with your digital marketing channels, and more.
By fully understanding your customer, in terms of their buying cycle, needs, budget, and timing, you can predict the optimal time to get in touch to maximise the chances of an upsell or cross-sell.
Trying to find strategic ways to retain your customers without the high costs? Hubspot can help you find eligible customers in your database to target with Google Ads that are highly personalised. You could use this tool to convince existing customers to upgrade their contracts, for example. You can also use Hubspot to create campaigns to reach specific audiences with tailored messaging to increase conversions and retention. In the long run, you also decrease cost-per-acquisition.
Email Marketing
The power of email marketing does not have to stop at the purchase. Email marketing can be an effective tool to increase retention, repurchasing, and loyalty.
The key is to personalise. As we know, 80% of customers are more likely to purchase after a personalised experience. So addressing the customer by their name, offering a product recommendation based on their habits, and displaying products based on their viewing history can achieve this.
App Engagement
Apps are one of the most accessible ways to continue to engage with your buyers. Push notifications can be used to provide a clear call-to-action that doesn't get swiped away. You can also use this to get deeper insights into how users interact with your marketing messages.
Gamification through points and achievements keeps people coming back to the app time and time again. Ultimately, when people are more engaged beyond the point of purchase, they're more likely to stick around. Brands save money by increasing retention and activating their current customers for repeat purchases.