Growth Marketing Boosted by Hubspot Guide 
Growth is an ongoing, data-driven approach starting from the very first step. It's about optimising the whole process constantly, according to insights and data-driven results. And in order to effectively manage this process, you need a comprehensive CRM tool. We will explore how you can take advantage of Hubspot's tools for each step of your entire growth loop journey.
Growth Loop 
Before we dive into the ins and outs of Hubspot, you first need a structure to grow your business. You need a data-driven and experimentation-oriented approach that's not about hacking but building growth strategies and delivering sustainable growth plans. It's an ongoing process, a loop.
The starting point is the Growth Check-up:
Internal Analysis 
Competitor Research
Customer Insights
Then, we move on to Strategy Development:
Growth Funnel Creation–creating persona(s) & matching with a product/solution
Creation of positioning statements for each funnel
Setting targeted metrics for each funnel
Next, comes Planning:
Creation of Growth Marketing Plans by associating each tactic with related funnel(s) & persona(s)
Adding targeted metrics to each tactic
Adding Growth Funnel Area (TOFU-MOFU-BOFU) for each tactic
And lastly is Management - iteration with targeted metrics:
Brand Awareness + Traffic Generation
Lead Generation
Customer Generation
Retention
Funnel-Based Growth Marketing Approach 
It's important to understand where your customers are in their journey and what your strategy should be during that stage. There are four steps in a growth funnel: Reach & Attract, Engage & Convert, Nurture & Close, and lastly, Retain & Grow. These four stages will determine your digital marketing strategies. It's also important to be using all forms of media for each step, including owned, paid, and earned media throughout the funnel. Let's look briefly at each step's main targets. 
Reach & Attract: build brand awareness and attract your target persona (traffic generation management)
Engage & Convert: capture the attention of your ideal persona and convert them to customers (CRO management)
Nurture & Close: nurture your leads and close the deal (lead nurturing management)
Retain & Grow: make your customers champions for your brand and secure their loyalty (customer management)
We will dive deeper into how to carry out tactics for each step through Hubspot's tools. 
Growth Funnels Through Segmentation 
The cleaner and more organised you keep your data, the more you can optimise it. It's critical in your Checkup stage to determine your offerings and which personas they are targeting. This may lead to you having a few separate products and growth funnels. 
In other words, segmentation is vital right away. This is where an effective CRM, like Hubspot, comes in. If you can perfect your segmentation according to your offerings and different personas, your sales pipelines will be much more productive. 
Individual Funnel Management
Looking at the whole picture of your growth funnel is important, but looking at it on a micro-scale is just as critical. You can view the onboarding journey of each customer through Hubspot's Contacts page. This gives you every detail from which source you converted this particular person to different actions they've taken. 
You can see whether they've opened your emails, clicked the link you shared, or visited your website, and if so, how many times. Hubspot gives you this data so you can know your customers inside and out.
This information helps you tailor each customer's onboarding experience. When you interact with them, you can highlight points important to them. This is why a CRM tool, like Hubspot, is so important because it gives you the micro perspective you couldn't possibly achieve manually. It automates everything, while also giving a personal touch. 
Test & Learn 
Test & Learn is a mechanism with which you can achieve successful results for B2B and B2C brands. This structure allows you to quickly test and optimise marketing campaigns.
With the "Test and Learn" structure, you can constantly monitor, measure and optimise for sustainable growth, so you never lose growth momentum. You should first look at a goal and come up with different paid and unpaid campaign ideas to make it happen. Then, you analyse the campaign data and iterate.
Test and Learn enables you to reach the right location and persona with the right budget in each campaign. More importantly, it allows you to gain the right insights and iterate. By using Test & Learn methods, you will be able to set significant goals, encourage alignment and motivation, and track every step towards achieving growth!
Reach & Attract
At the Reach & Attract stage, all activities are to build brand awareness and attract your target persona. It's important to set measurable tactics through ads, content marketing, social media, and SEO optimisation for higher brand awareness and traffic generation. So let's dive into Hubspot tools that you can use to reach and attract the right people. 
Ad Creation & ROI Tracking 
With ads, you can get near-instant results while reaching a relevant audience. Instead of simply promoting your products, engage in the conversation and provide meaningful, authentic content.
On Hubspot's Ads tool, you should choose your "ad type," according to what type of advertising you're aiming to create. Hubspot gives you targets for each ad type, so in the Reach & Attract stage, an ad sequence and website visit ad are most relevant. 
Hubspot walks you through each step of the ad creation process. One great feature is the ad sequences tool, in which you can create attract, convert, and close ads in a sequence to meet your target audience at each step of their process.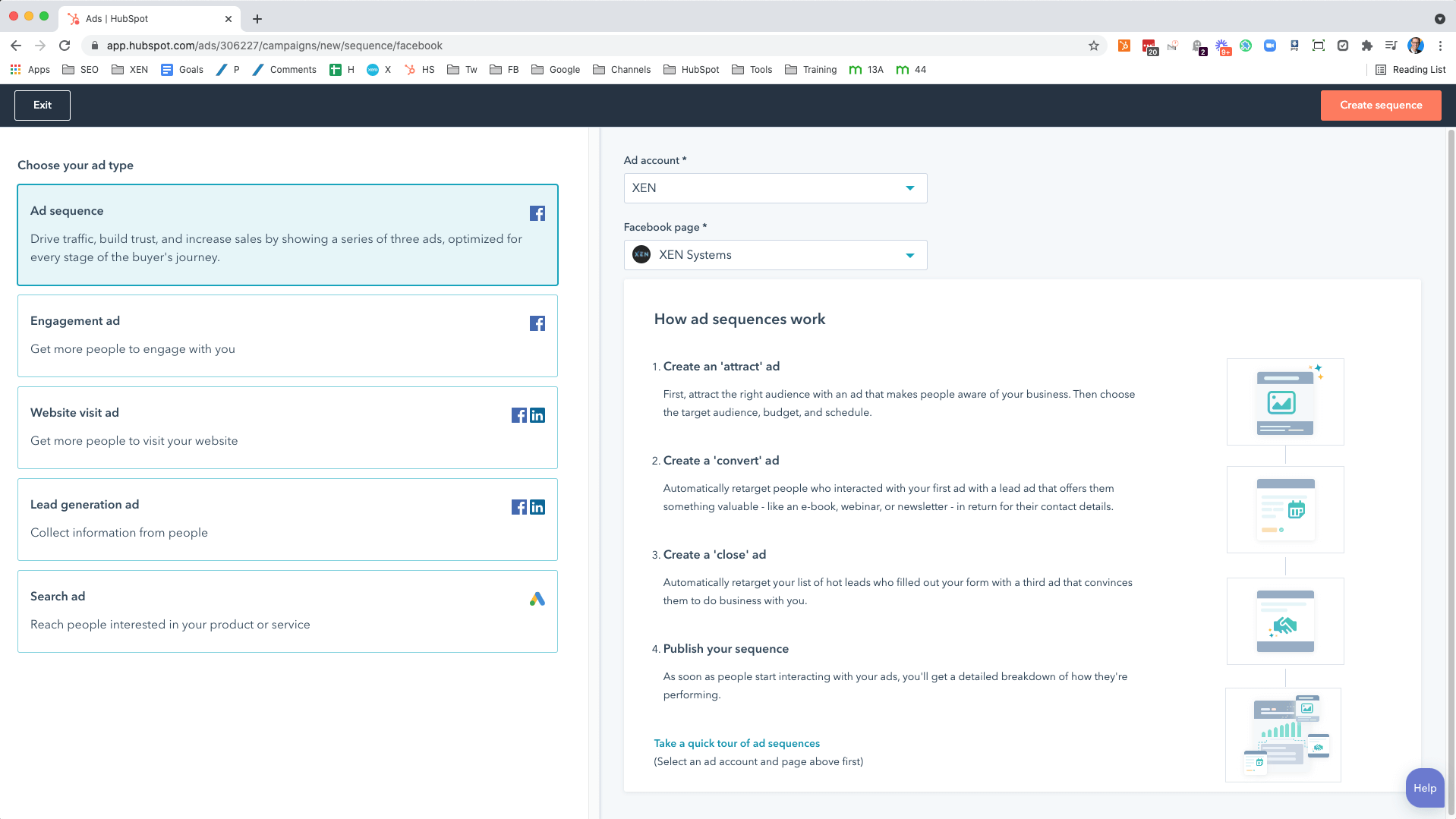 Lastly, you can publish your ad through Hubspot, and you will be able to view how it is performing. With Hubspot's Ad Tracking tool, you can see how many people are seeing your ads and clicking on them. These first two figures in the sequence are the most important for the Reach & Attract stage. 

Content Marketing
Content marketing is one of the most influential and sustainable marketing channels. To create brand awareness, you can provide useful and related information to your persona while they're searching for a product or service. This allows you to reach consumers at the right moments and give them what they're seeking. So you should create instructional and inspiring content such as blog posts, videos, infographics and podcasts here. 
Hubspot's SEO Topics tool is great for finding relevant topics to write about in order to attract your ideal audience. Hubspot will show you monthly search volumes and competition. You can also create a content plan with subtopics, in which you can add your website links to each. Hubspot will show you monthly searches and top search queries related to your content topic. 
Social Media 
Social media is vital in increasing brand awareness. First, you need to decide which social media platform best represents your goals and fits your brand. Then, create a monthly social media calendar to determine the frequency of your posts. Hubspot allows you to take care of all aspects of your social media through its Manage, Monitor, and Analyze tools. 
Manage: Here, you can draft, schedule and post social media content campaigns. It also allows you to schedule posts in bulk and compare posts you've shared. 
Monitor: This tool allows you to follow "streams" of conversations, impressions, mentions, and more.
Analyze: This dashboard shows analytics of all of your posts, in which you can see anything from interaction and clicks to sessions and new contacts. It also shows your top posts, so you can iterate accordingly.
Engage & Convert 
The next stage in the buyer's journey is Engage & Convert. You should aim to keep your ideal audience engaged with your brand in order to convert them into customers. It's all about making a lasting impression.
Pop-Ups Forms & Chat Flows 
Website pages are effective platforms to convert your visitors. If a visitor comes to your site, you have a chance to capture their attention. The best way to captivate them is to first give them something that represents value to them. This can be a webinar about an interesting topic, a free trial or a success story. 
Get your visitors to input their information to access this content through a pop-up form. You can create these pop-up forms directly on Hubspot and preview them before you publish them to your website. 
Another way to generate leads is through chat tools. Many visitors prefer to get answers through a quick chat, rather than filling out a contact form. Being available when your visitors have questions is a great way to quickly win them over.
You can create a chatbot flow to greet your visitors with a helpful and engaging message, book meetings, answer FAQs, and more. With Hubspot's chat flow tool, you can build your chat flow with if/then logic. Hubspot also allows you to choose who will see this popup and when, as well as how to respond to them. 
Smart Calls-to-Action 
A call to action on your website will be what brings your website visitors into your lead lists, enabling you to be able to continue engaging with them. Use Hubspot's CTA tool to show the right audience the right message at the right time. 
By creating rules, you can determine the ideal messaging and timing for your target audience to click your CTA. You can design your button and publish the final product!
Conversion Rate Optimization (CRO) Management
To increase your conversion rates, it's important to make sure you are targeting the right people in the right ways. As with smart CTA's, you can also create smart rules on Hubspot. For content on your website, you can input certain rules that if visitors match with, they will see that certain content. This ensures your content is relevant and engaging to your visitors. 
ROI Tracking 
Let's return back to Hubspot's Ads tool where you can analyse how effective your paid media is. For the Engage & Convert stage, clicks and contacts are most important. You can see how many people that clicked your ad were converted to contacts. Hubspot shows you the conversion rate as well as how much you're spending for each contact. 
Nurture & Close 
The next stage, Nurture and Close, is exactly what it sounds like. Your focus should be on nurturing qualified leads and closing deals. This stage is all about keeping in close, personalised contact with your prospects through strategies such as email marketing and remarketing campaigns. Hubspot has tools to make this process easy for companies through automation.
Account-Based Marketing 
Account-based marketing is a growth strategy to create personalised buying experiences for a select set of high-value companies. This eliminates wasted time trying to target and sell to unqualified leads. 
With Hubspot's Target Accounts tool, you can target and manage these accounts. This tool calculates your deal values as well as allows you to keep note of any contact or engagement. This is a great way to create a highly personal experience, and therefore nurture, your highest-value accounts.
Funnel Based Pipeline Management 
Funnel-based pipeline management eases the closing process for companies. A sales pipeline shows every stage of your sales process and provides you with a visual representation of where your prospects are in the sales process. 
Hubspot's Deals tool allows you to move deals from each stage in order to follow its progress. In this way, you can easily forecast revenue by looking at the current situation and predicting how many will close as deals during a given timeframe.
Lead Scoring 
One important way to segment on Hubspot is through contact lists, or active lists. This allows you to separate contacts into different lists, according to their needs. So you not only keep track of everyone who comes through your website, but you can create groups that are ready to be sent to marketing or sales teams and can be sent the same messaging.
Hubspot will automatically do this according to the criteria you set up. You can enter filters, such as "clicked Contact Us button," so all contacts that clicked will be filtered into the same lists. You can create active lists by determining positive and negative attributes. These attributes can help you focus only on qualified contacts. When a contact comes in, Hubspot automatically sorts it according to how many of those attributes it has. 
Lead nurturing is also critical in your paid media. You can use filters to determine which contacts see what types of ads. You can use this tool in your strategy by remarketing to contacts that you are trying to nurture, for example. 
Forecasting
In this stage, you should also be looking at the potential sales volume very closely. Forecasting sales allows you to identify problems while there is still time to avoid or mitigate them. Therefore, you can make data-based decisions ranging from resource management to marketing budgeting. It also critically enables you to calculate the number of leads you need at each stage to hit your goals. 
Email Marketing 
You can also send a series of emails to specific segments of people on your email lists or in your pipeline. If you have not heard from a prospect for a while and want to check in to keep things moving forward, this is a great tactic. A series of targeted emails can nurture contacts over time. 
With Hubspot's automation tool, you can send email sequences directly from your own email server to your contacts. This way, it directly lands in the focused or main inbox of the recipient, leading to higher open rates. You can also create a task for yourself or your teammates, for example, to call that contact after a certain period of time.
ROI Tracking 
For this stage, we should focus on the Contacts to Deals numbers in Hubspot's Ads tool. This shows you how much you've spent to get each contact, as well as how much was spent for each deal to close. This is essential in analysing how to better nurture and more efficiently close deals in your funnel.
Retain & Grow
Our last stage, Retain & Grow, is all about making your customers champions for your brand and securing their loyalty. So you need to hear your customers' feedback and iterate while reminding them why they chose you in the first place. Are they satisfied with your products or services? Would they recommend it to others? Generate tactics to increase their satisfaction and encourage repeat purchases. 
Customer Lifecycle Management 
Using a help desk is an essential tactic to ensure that your customers are not only satisfied but become loyal brand champions. With a help desk, you can intake, triage, troubleshoot, solve, and improve customer issues all with one automated system. 
With Hubspot's Tickets tool, you can manage this system. You can use phone, email, live chat, and forms to ensure quality customer service. And lastly, you can analyse your progress through reports on response time, inquiries solved, and customer effort scores. 
Paid Media 
Using ads should not stop with a deal closing. You can use Hubspot to create ideal audience lists for this stage. This can help you re-engage with former customers and keep them loyal to your brand. You can also show ads to current customers to convince them to upgrade or renew their contracts. 
Newsletters
Another great tactic to retain loyal customers is through newsletters. Through Hubspot's Email tool, you can design a monthly newsletter, add buttons, and personalise the text, in order to never lose touch with your customers. 
Hubspot offers you to conduct A/B testing, in which you can test two different emails to see which performs better. You can also send or schedule your newsletter to specific lists in your database. Lastly, you can automate what happens after you send your email by creating workflows with Hubspot. 
End-to-End Funnel Tracking 
Growth funnels help you give direction to your growth strategy and tactics. So when you track the entire process, you get valuable insights into the areas for improvement in your marketing and sales processes. 
You can discover the specific problems that are clogging up your funnel and come up with solutions when you look at the whole picture at this macro level. 
There is a wide range of metrics you can track that will give you insight into your marketing efforts. Hubspot's Reports tool offers a wide range of analytics to measure every aspect of your efforts. For example, Hubspot's Weekly Dashboard allows you to track your weekly marketing leads by source and campaign, as well as weekly sales performance.
Hubspot also creates monthly marketing reports that include all of your efforts, leads, contacts created, conversions, and more. This is a great tool to measure and iterate monthly team efforts accordingly.