Managing PPC campaigns on different channels is time-consuming. You have to make a constant effort on cost control, campaign efficiency, and optimization. If you are managing more than one brand, the process is even more overwhelming. Add the periodically updated features of Google ads, Facebook ads, Instagram ads, and Microsoft Advertising: here we are with an incredible amount of checkpoints.
That being the case, it may be more efficient to use a SAAS product for the success of your paid marketing strategy. And for those who are ready to utilize the PPC tools, we compiled a perfect list to use on your Paid campaigns.
1. SEMrush
Although SEMrush is a tool known for SEO and backlinks, it is actually a complete digital marketing tool.
With the help of the PPC keyword tool in SEMrush, you can import keywords yourself or follow the keywords SEMrush recommends. Thanks to this tool, you can see the CPCs, match types, and competition levels of the keywords you follow based on the countries in which you have run your campaign.
SEMrush is also a great competitor analysis tool.
With SEMrush's advertising toolkit feature, you can:
See for which keywords your competitor is running search campaigns. You can also see how much your competitor is spending on a country basis.
See your competitors' text and display ads.
If you sell products in e-commerce, you can see PLA positions and ad performance.
Create ad texts in the Ad Builder tool. At the same time, you can quickly see the ad texts of competitors by entering the domains of the competitors and the countries in which their ads are published.
There is also an advanced keyword tool called Keyword Magic Tool, which is another feature of SEMrush.
This tool finds you keyword variants that you will use in your different PPC campaigns. Close relevance, match types, volume and competitions by country are among the features of this tool.
For prices, please visit: https://www.semrush.com/prices/ 
2. Spyfu
Spyfu is a tool focused especially on competitors' keyword research (paid keyword and organic keyword research) and gives deeper insight. So, it is basically a keyword research tool with which you can analyze your competitors' Google Search campaigns in detail and create strategies accordingly.
With Spyfu you can:
See the volume, CPC, ranking, and the total number of ads based on the keywords targeted by competitors.
Enter a competitor's domain and see others they compete with on Google Ads. You can review the common keywords, estimated spend and click counts they get.
You can see and analyze the keywords targeted by your competitors as a group.
You can see the ad copies of competitors for Google Search ads.
Spyfu has 3 different price scales: Basic, Professional, and Team. Pricing varies according to the number of keywords you will follow.
3. WordStream Advisor
WordStream Advisor is a tool specially designed to help businesses maximize results from paid campaigns.
WordStream Advisor helps businesses using Google Ads, Bing, and Facebook to turn clicks into paid customers. It allows you to manage and analyze these advertising platforms through a single tool.
The outstanding feature of WordStream Advisor that distinguishes it from other tools is the campaign and ad recommendation mechanism. It helps to improve the performance of your campaign with the suggestions it offers on ads, strategies and other issues.
Wordstream Advisor's Key Features:
One-click optimizations
Business growth opportunities
Account structure suggestions
Replicate ad creative
Conduct search query analysis
Performance Dashboard
Success Reports
Impression Share Report
In addition to the WordStream Advisor advertising management, post-click optimization solutions are available. You can create mobile-friendly landing pages, and easily create and customize pop-ups.
WordStream advisor pricing starts at $200 per month and increases periodically based on your ad spend. For updated prices, please visit: https://www.wordstream.com/pricing 
4. AdEspresso
AdEspresso is a tool you can use to create and optimize Facebook, Instagram, and Google campaigns on a single platform.
AdEspresso facilitates Campaign optimization, creates an ad campaign, analyses, and provides reports. You can save a lot of time and improve your campaign performance by using this advanced PPC tool.
The key features of AdEspresso are:
You can create and manage Facebook, Instagram, and Google Ads campaigns through its own panel. So you don't have to spend time switching from one ad manager to another.
It has advanced reporting features. You can prepare automated PDF reports and send them via e-mail. You can also create your own reports using the drag-and-drop feature.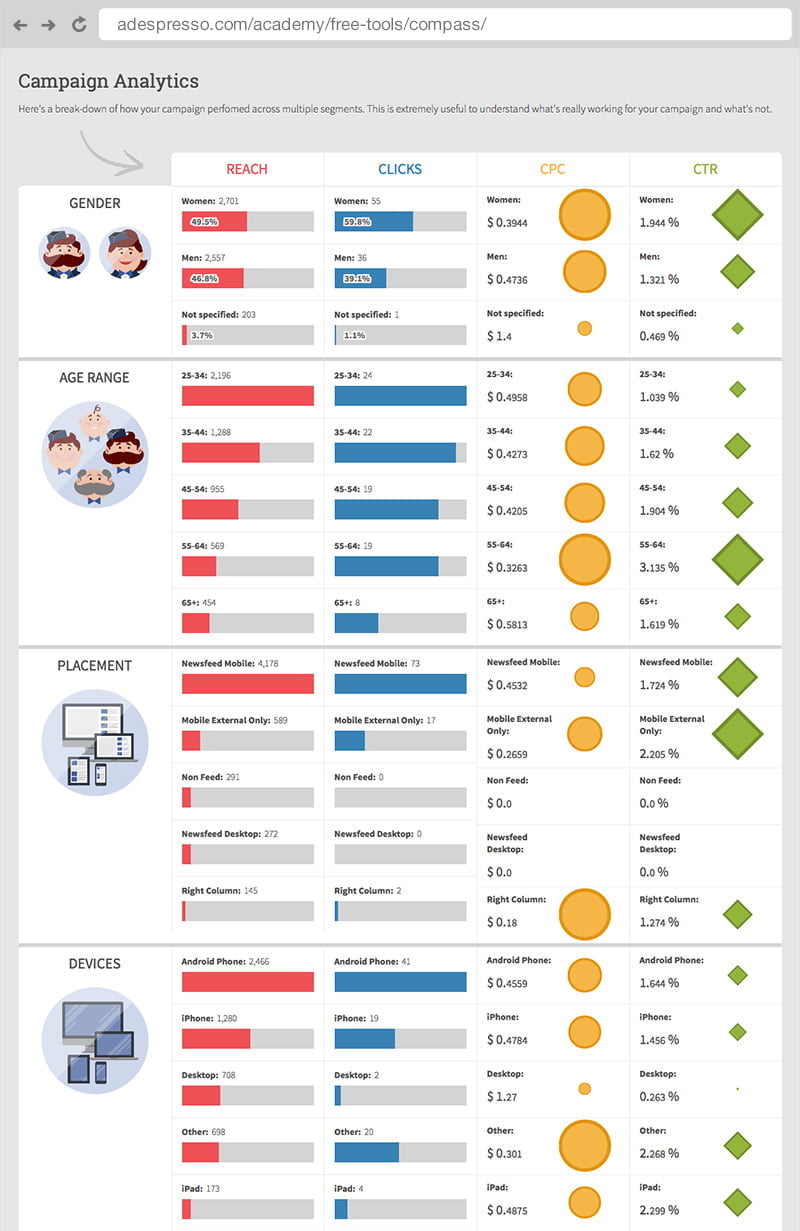 You can easily access your customers' accounts and have them approve your campaigns before going live.
AdEspresso University provides the tools and resources you need to improve your Advertising and Marketing skills and expertise.
In AdEspresso, the pricing scale is divided into 4 sections. The Pricing Plan is determined by the monthly advertising spending. The Base Plan, which is the starter package in AdEspresso, is $58. For updated prices, please visit: https://adespresso.com/pricing/ 
5. Optymzr
Optmyzr is one of the award-winning PPC tools for PPC experts. In 2018, they won the Best PPC Software award at the US Search Awards.
Optmyzr is known as a click optimization tool that gives you suggestions for ​​improving the quality of your accounts. The tool supports managed campaigns on Google Ads and Microsoft Advertising (Bing Ads) and optimizes ads through machine learning.
For large marketing agencies that use Google Ads and Microsoft Advertising, Optmyzr provides advanced tools to run ad campaigns smoothly.
Key features of Optmyzr:
Highly advanced Optimisation and Reporting solutions for Google Ads and Microsoft Advertising (Bing Ads) accounts.
Analysis sections give insight into performance issues.
Sector-specific machine learning-based campaign and advertisement suggestions.
Pre-built Google Ads scripts.
Tracking and reporting of Quality Score
Detailed analysis reports such as Hour of the Week, Landing pages, and spending projections.
A one-click tool that allows you to optimize.
Optimization tools specific to shopping campaigns.
Built-in reporting feature.
Broken URL checker.
Optmyzr is one of the best tools on the market for agencies that manage a large number of medium and small-sized Google Ads and Bing accounts.
Perhaps its most important feature is the efficiency it provides with the one-click optimization tool. Running optimizations recommended by the tool will save you a lot of time in your weekly management.
Optymzr offers 2 pricing models: Pro for $499 / mo and Pro + at $799 / mo. There are 2 factors that determine the pricing: the number of accounts you will link to and total advertising expenditure per month. For updates prices, please visit: https://www.optmyzr.com/information/pricing 
6. Tenscores
Tenscores is a comprehensive optimization tool that helps you increase your Quality Score and reduce acquisition costs on Google Ads. Tenscores discovers which campaigns and ad groups have the lowest-performing ads and fixes configuration issues with AI-assisted re-grouping. It helps you get more conversions with better keywords.
Tenscores states that there are basically 2 tool types within its service.
Quality Score Tool
Keyword Tool
Unlike its competitors on the market, Tenscores focuses on very detailed account optimization in Google Ads campaigns. Tenscores takes Quality Score optimization as a starting point and uses it as the basis for deep optimization of a Google Ads account. To achieve this, it has an exceptionally easy interface that provides a visual analysis of the Quality Score.
The tool provides a detailed analysis of Quality Scores at the keyword, ad group, and campaign level.
Main Features:
Focuses on increasing Quality Scores for Google Ads
Offers ad optimization suggestions
Provides a gradual guide to improving account performance
Tenscores allows you to calculate savings to increase the Quality Score in certain areas of the Google Ads account you manage.
When it comes to low-Quality Score ad groups, the tool makes suggestions to regroup keywords and provides an interface to optimise ads in the same ad groups, which helps improve your Quality Score.
Tenscores also gives you an overview of how your budget is spent. Accordingly, you can quickly find the campaigns you spend on low-quality keywords and the amount of money spent.
The tool also has a guide for improving your account performance, handling your account campaigns one by one, and offering suggestions for what you need to do in each of them.
Please note that this tool works only for Google Ads accounts.
The fee is $25 per account per month. Additional monthly fees are applied according to the number of keywords in the account. For updated prices, check: https://tenscores.com/pricing
7. Google Ads Editor
Google Ads Editor is an application that you can download for free to edit your Google Ads accounts and campaigns quickly and easily.
Google Ads Editor allows you to quickly make changes and publish to your accounts and campaigns.
This tool is perfect for you if you are a regular user of Google Ads campaigns since it saves time and is easier to use than the bulk version.
One of the most important features is undoubtedly the ability to work offline. It also has a much faster interface than the Google Ads you use on the browser – it does not keep you waiting for screen transitions and transactions.
Aside from working offline and fast, you can take the following actions with Google Ads Editor:
Managing, organizing, and viewing multiple accounts simultaneously.
Importing and exporting files to make changes to the account and campaigns.
Viewing metrics and data for all campaigns or a subset of campaigns.
Changing texts in ad groups and campaigns.
Changing the links of ads collectively.
Copying or moving items between ad groups and campaigns.
When editing your campaigns, undo multiple changes and redo.
It is a completely free tool that will save you time when using Google Ads.
Bonus: PPC Tactics
Last but not least, Here's a wide range of PPC tactics we have prepared for you to implement your growth marketing activities. You can choose the tactics according to your main goals (Brand awareness + traffic generation, conversion, and retention) as well as the difficulty level (beginner, intermediate, advanced).